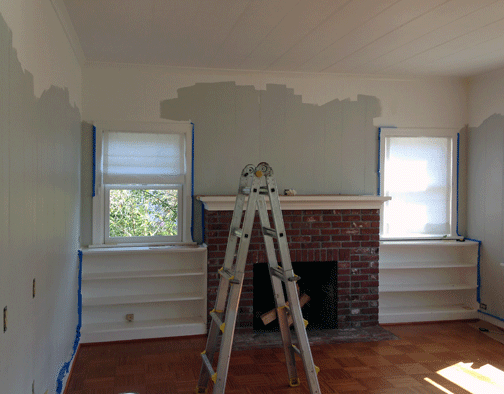 Adventures in Paint
Adventures in Paint
Now to the fun part – Paint colors! You knew that was coming up next – right?
When the previous owner bought this cottage over twenty-five years ago, things were apparently a tad bit rough about the edges.  It seems that all of the walls on the main floor, some of the woodwork, and who knows what-all-else had been painted a bright shade of yellow. That yellow was covering up a previous shade of robin's egg blue – and not doing a great job of it. To top it off, all those kitchen cabinets were a scary shade of reddish-brown.
A lot of history, interesting color choices, and decorating styles can happen over a hundred years or so!  She said it was kind of overwhelming so she just threw up her hands and said, "Paint it all white!" So… it was painted all white except for the kitchen cabinets, which did get a nice coat of historically appropriate soft green.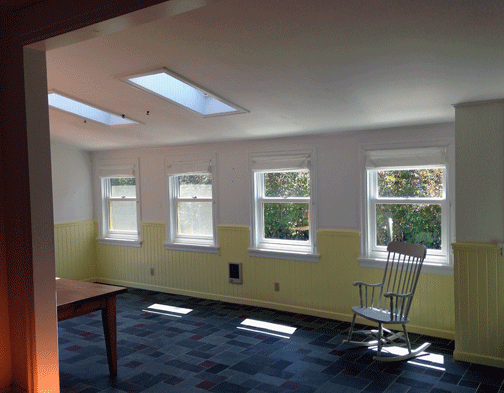 The only yellow painted area left for us was the beadboard wainscoting in the party room and the front entry.  Not sure why – perhaps a nod to the history of the house – or she just wanted a nice sunny color in those areas.
I knew that white on white was not going to work for me and with all of this white woodwork a contrasting color was needed to make it pop. Grey was the first thing that came to mind and that is what I went with.  Now finding the right grey is another story….as you know there are more than fifty shades of grey ( sorry – couldn't resist – hee hee! 🙂 )  Actually there are probably more like thousands!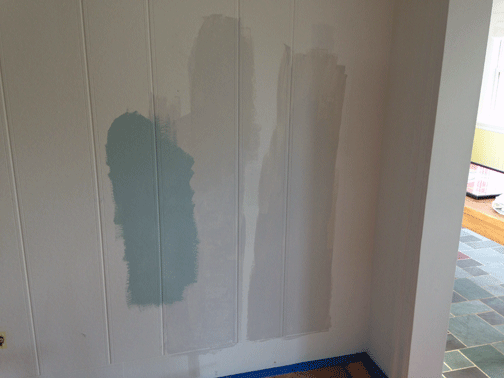 The Benjamin Moore selection at Pacific Paint, our local paint store, was just the thing.  So here are the colors that were finally chosen after trying out several little sample cans of various paint colors:
The Living Room – Grey Owl
The Dining Room – Woodlawn Blue
The Kitchen, Party Room and Front Entry – Classic Grey
The Beadboard – Sea Haze
The East Bedroom – Ivory Tusk
***
The North Bedroom – This room has yellow wallpaper  *sigh*  It will have to stay for now.  But you know what ?  It's actually not bad – and it's kind of starting to grow on me 🙂