Sea Star Cottage
Sea Star Cottage
As some of you may know, Shell's Cottage is not our first beach house.  Back in 2005, we bought little Sea Star Cottage from a friend of the family.  It had been a rental for several years and the owner was ready to sell.  It needed quite a bit of cosmetic updating such as paint and flooring and tile, but it was the right low price and size for our small family at the time, and best of all it is just half a block away from Nana's house.
It has only one true bedroom and an open sleeping loft but it has two full bathrooms, high ceilings with big skylights, and it is on a big corner lot with plenty of parking.  You can even see the stars at night through the skylights while you are laying in bed…
This is why it was named Sea Star Cottage 🙂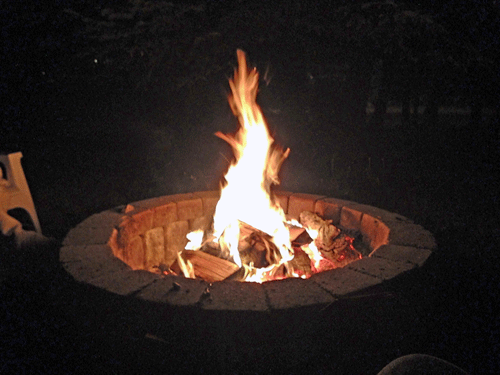 We spent ten years enjoying Sea Star and watching our boys and all their cousins growing up here during the summers. The kids could go back and forth between our house and Nana's house and we didn't need to worry about them.  There is a fire pit in the front yard and we had many a barbeque on the front deck.  The dead-end side street was perfect for little kids to do fireworks before going down to the beach for the big fireworks show on Fourth of July.
Then our little boys and nephews and nieces all grew up.  Big teenage boys take up a lot of room!  One of our boys even decided to claim a bedroom at Nana's house because of the close quarters in the loft and we can all barely fit in the living room anymore.  It was getting down right squishy on cold and rainy days!
We had hired an architect and had plans drawn up to put additions on the house.  We were going to bump out the living room and add a bedroom and bathroom. But then, we came upon Shell's Cottage with a big "For Sale" sign in front, and those plans went by the wayside.
We are, however, going to do some much needed updates.
First up is replacing the front deck and walkway.  It was getting pretty bad and areas were starting to rot and get all "bouncy".   Last winter's storms had knocked down some of the windbreak fence boards on the west side of the deck and the whole thing was looking pretty sad.  It was never really very functional either with lots of levels and steps.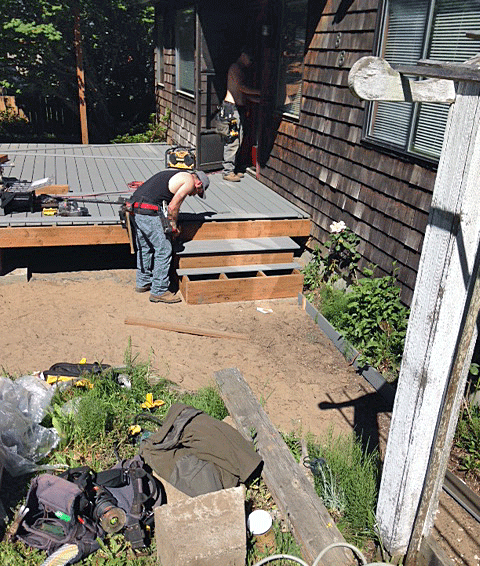 The crew went to work and the old deck came off in a day or two and the new one started going in!  We are using Trex Select decking in "Pebble Grey" because it is really low maintenance and doesn't get slick when wet. We made the whole thing one level with wide steps down the side to the path to the street.  Way better!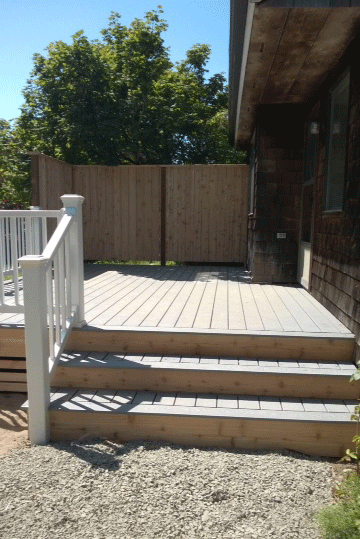 We took out the old wooden board walk completely and will have a nice gravel path for now.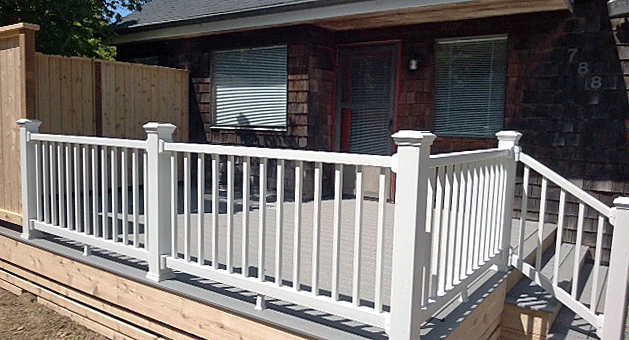 Harry asked me if I wanted cedar rail and balusters and I asked him if he was planning on cleaning, sanding and staining them every year and he said, "Umm…that would be a No."  So we went with the Trex Select white rail and baluster system. Never have to paint them or stain or anything….just hose them off once and awhile.
Should have done this years ago!
Next up is new windows all around and new cedar shingles on the front of the house.  We are also getting new storm doors along with a few other upgrades in the kitchen and bathrooms.
Watch for more pictures!
We are actually going to miss living in little Sea Star Cottage.
  Lots of great memories!
– 😉 –