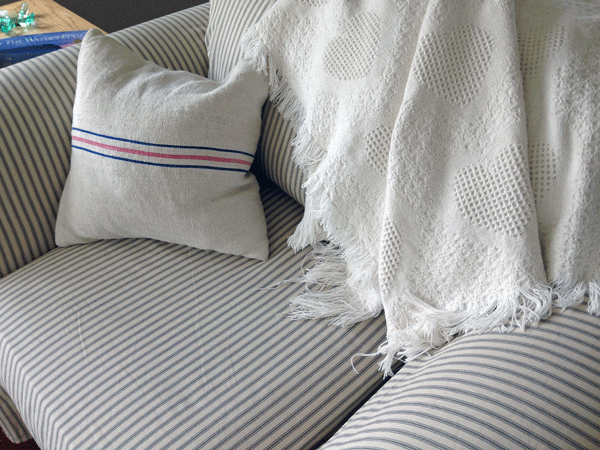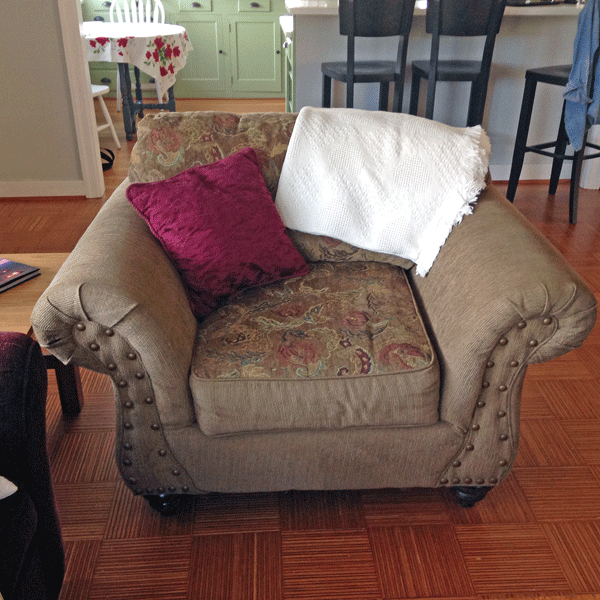 Our big old chair! … (Doesn't everybody have one of these somewhere?)
We have had this big oversized brownish/sage green chair for many, many years over at little Sea Star Cottage. We bought it at a second-hand furniture store in Seaside because we needed a big chair and it was the only one we could afford at the time.  The color was fairly neutral and it has held up to many years of little kids and teenagers.
It's not really very beachy…. but it worked and it is very comfortable!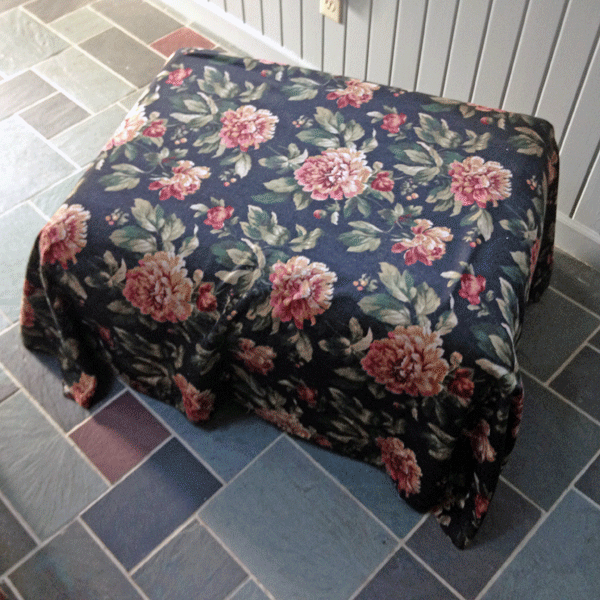 We also had this ottoman that was even older …. It originally belonged with a club chair and matching couch that I bought way back in the 90's.  Many years and sippy cups of chocolate milk later, the ottoman ended up at the beach with a floral throw over the top to go with the big chair, and the club chair and couch were donated to some college kids.
So now….after a lot of years of football games, movies and naps and a move over to Shell's Cottage …the big chair really wasn't looking so great anymore…. mostly because the color was just so wrong!
So….I did the thrifty thing and took a chance and ordered these Sure Fit slipcovers from Overstock.com.  Crossed my fingers and hoped it would fit and would cover the brownish/sage green!
Here is the ottoman before: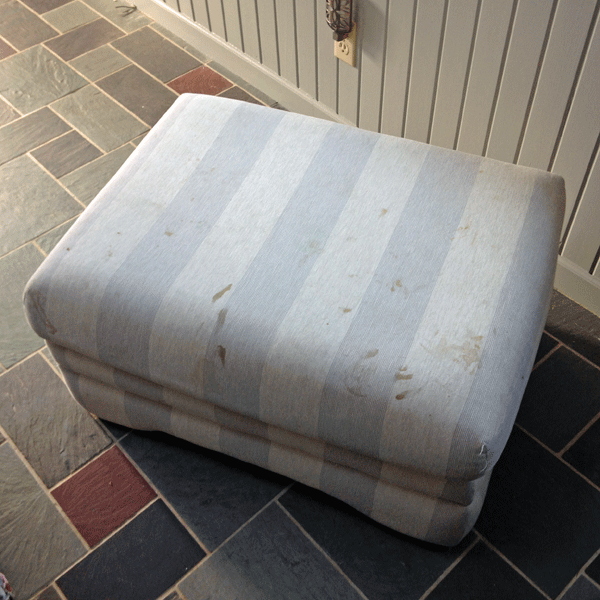 And here is the ottoman after: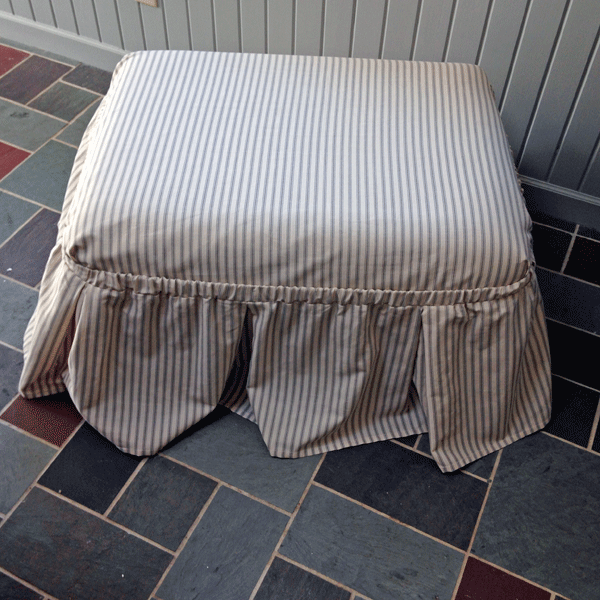 Oh yeah!
This was the easy part….
However….Getting the slipcover on the big chair was a bit of a project… A lot of wrestling was involved!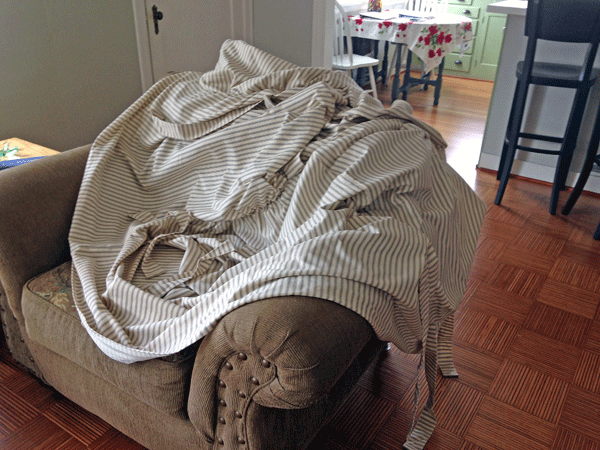 It took some tugging and pulling and a bit of swearing but I finally got that thing on there!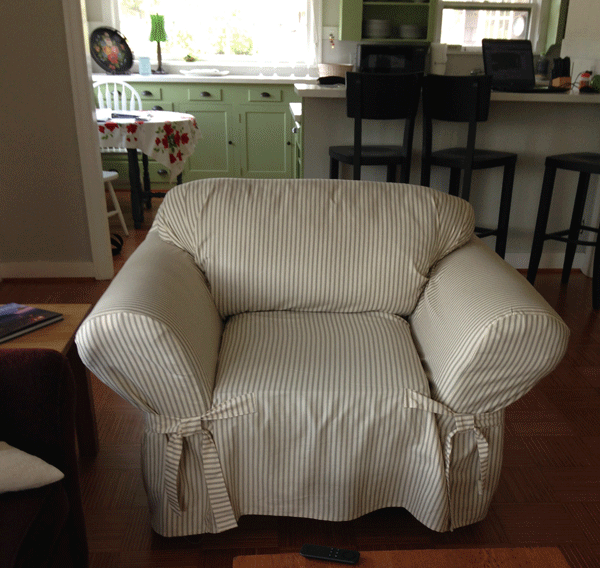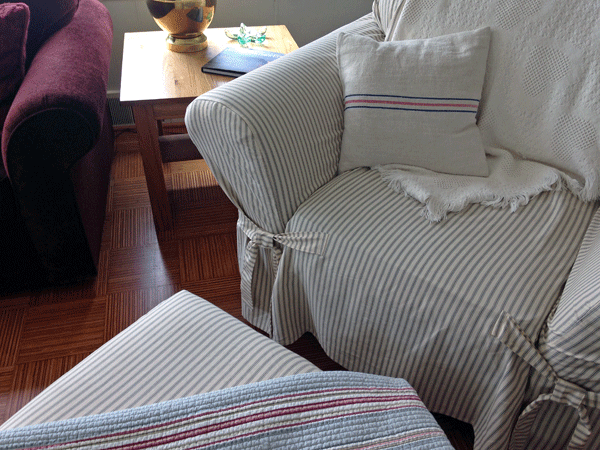 I think it looks pretty darn good…don't you?!
It's beachy and it covers the brown/sage color and it stays tucked in and everything!  Yay!
***
So…if you are on the fence about ordering inexpensive slipcovers to cover an old ugly chair….
I say go for it!
– 🙂 –