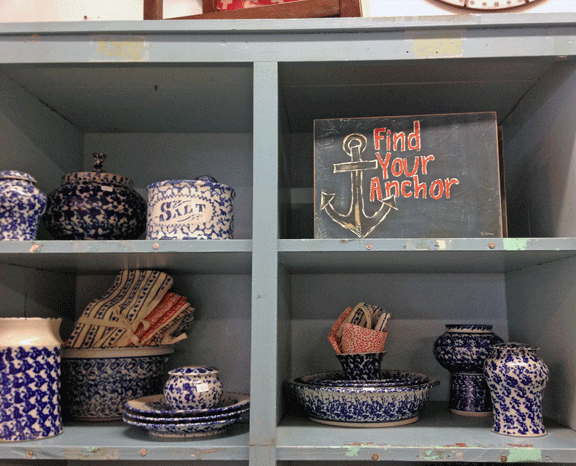 Sunday in Astoria
Sunday in Astoria
A few weekends ago, we – Susan and Natalie (my sister and my niece)and myself, ventured up to Astoria for the Fifth Annual Vintage Flea Market on the waterfront River Walk and to check out this year's Sunday Market which runs every Sunday during the summer in downtown Astoria.  What a fun day!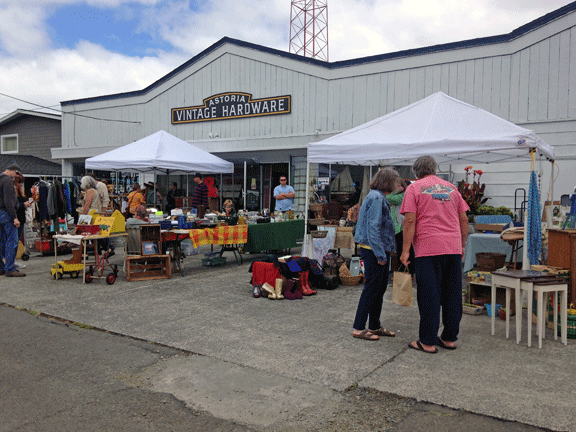 First stop was the Vintage Flea Market which started in front of Astoria Vintage Hardware and extended on down the wharf.  I wrote about this great store awhile back – we got our "Toilet" sign for the cottage there in March.  It seems that for the past few years they have sponsored a Vintage Flea Market for locals and others to set up booths and sell and trade their found treasures and upcycled items….how fun!
***
Much to my surprise – and a small world moment – I discovered that the owner is somebody I used to work with way back in the day in Central Oregon.  Paul and his wife moved to the coast long ago and over the years he, along with a business partner, built this great vintage hardware business in Astoria by salvaging and repurposing items from the many old houses in the area.
Good for him!!  I'm proud of him – he was just a young kid from Prineville back when we worked together with a sweet wife and a cute baby boy.  They were a nice young couple still finding their way and it looks like they found it! What a great success story!
***
Anyway…back to the Vintage Flea Market.  Oh My!  Such treasure!  So many great things! Like these…..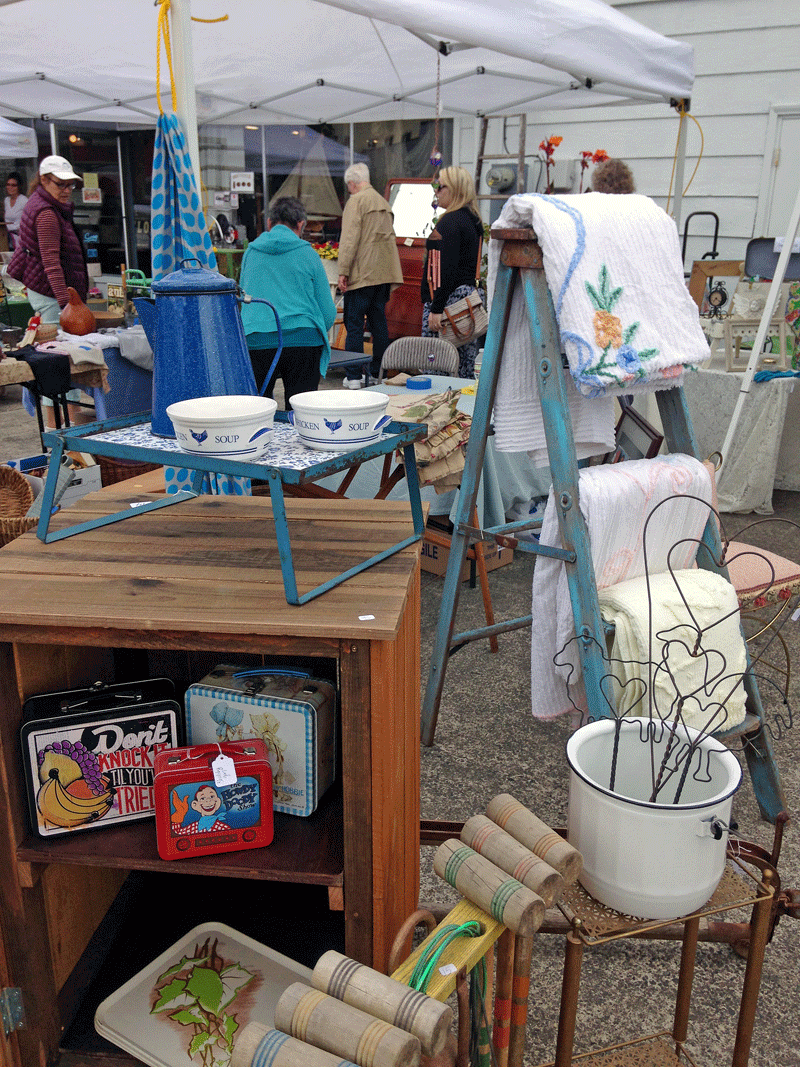 I think it is so cool that this flea market is all along the Columbia River waterfront….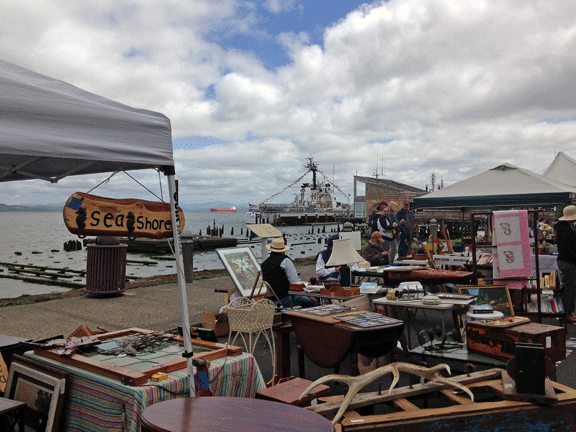 There was even a guy repairing and weaving caned chairs.  How many times have you come across a great caned chair that had a hole in it….and nobody around to repair it!  Well…they have a guy in Astoria that can fix that right up for you! North Coast FIX  at Pier 11 on the River Walk!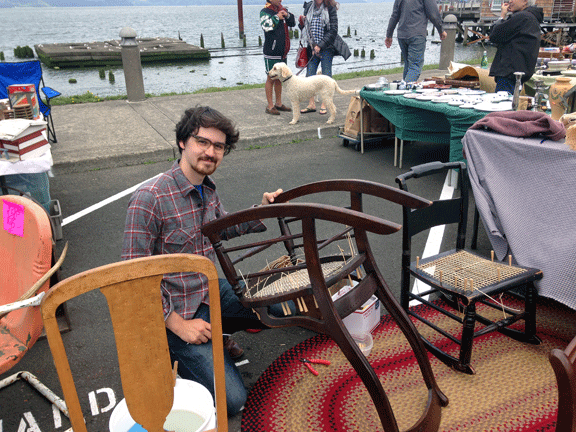 After collecting a bunch of goodies, we stopped on the pier on the way to the car to take a picture of our stuff and the river and the ships and just then the sun decided to come out!  It had been a bit stormy earlier so the sun felt great!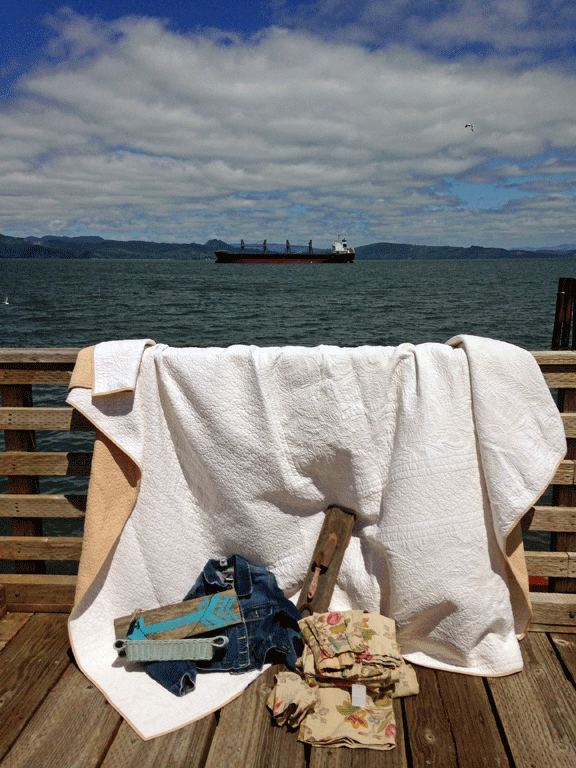 Susan got some cute signs and some awesome vintage linens.  Natalie got a great little jean jacket.  I rescued this great quilt – not vintage – but a heck of a deal for $10 – yes that would be $10!  How could I not grab that?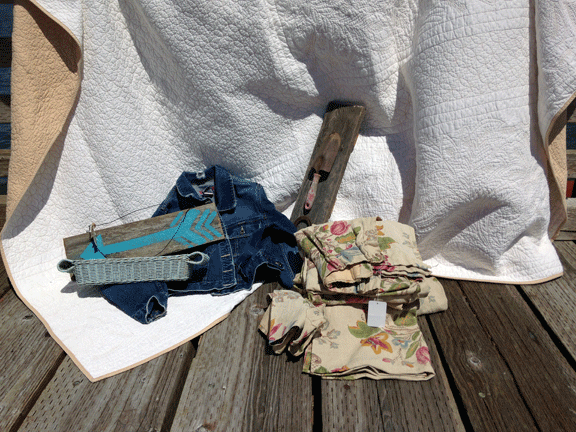 Then it was time to head up town to the Sunday Market. Always a good time and lots of great stuff – kind of a Farmers Market and Artisian Market rolled into one – and not too many of the "snake oil" booths (if you know what I mean)  🙂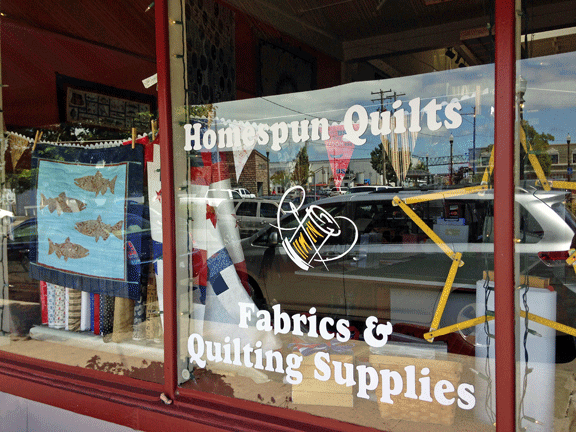 We passed by my favorite little quilt shop in Astoria – Homespun Quilts.  They always have great nautical fabrics of course!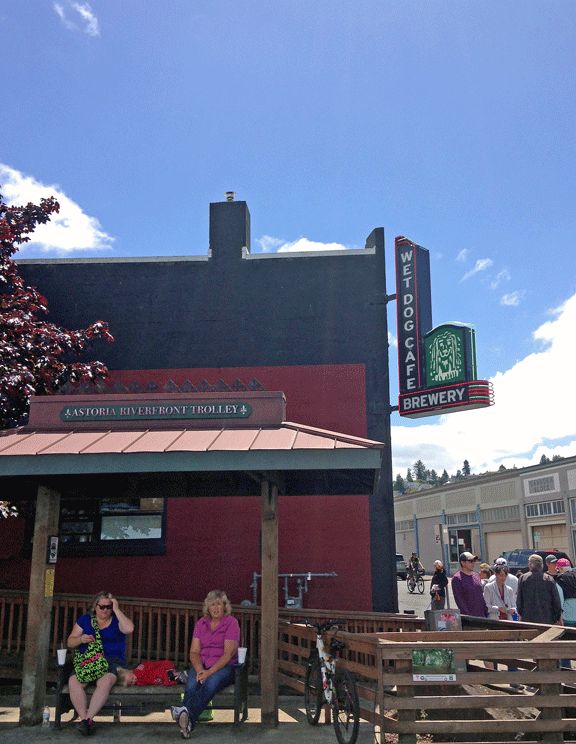 This is the Wet Dog Cafe and Brewery, one of several breweries on the waterfront, and the historic Riverfront Trolley stop in front of it. The trolley runs the length of the waterfront and you can ride it for $1.00 and they have a tour guide to tell you all about the history and interesting places along the way.  A great way to see Astoria!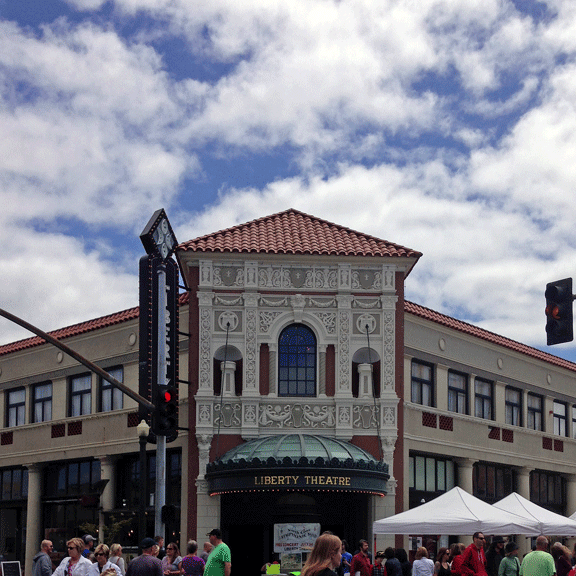 The Sunday Market is held right in downtown Astoria. -This is the historic Liberty Theatre – built in 1925 with restoration beginning in 1998 and is still ongoing. It is a beautiful event center with amazing historic architecture and has been placed on the National Registry of Historic Places. Now this is a true treasure and a must see!
Lots of booths to look at such as this one….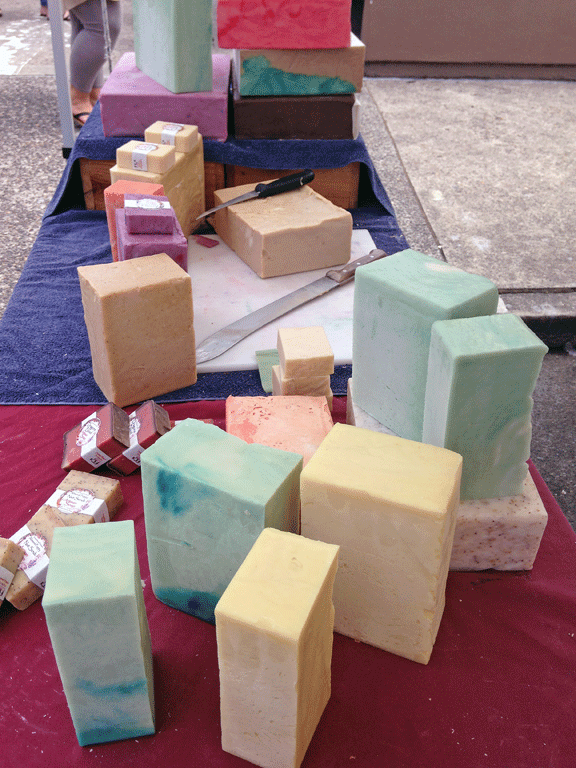 Love these big blocks of soap – so pretty! And they smell really good too!
We wandered around and looked at all the great offerings and then, after having a few fresh baked cookies, we realized we needed some real food so off to the food carts… seriously…they have some of the best food carts around!  We had burritos all made from scratch – even the tortillas – yum!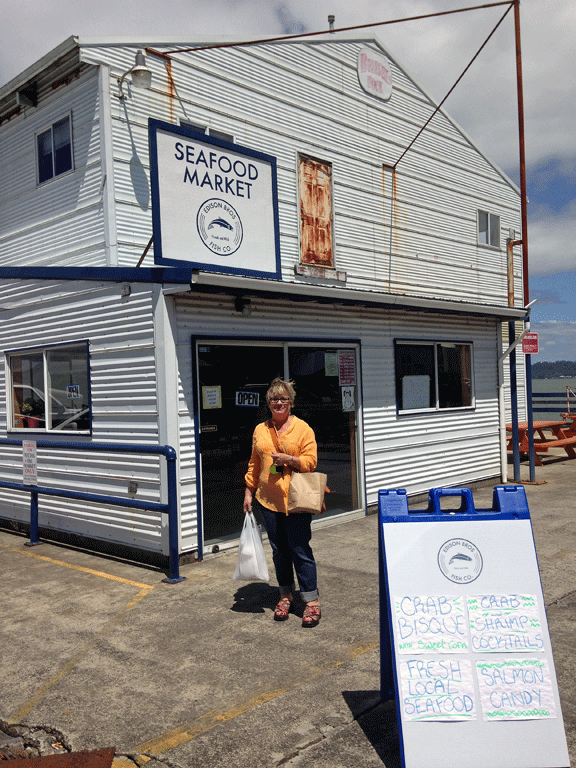 Our last stop was the fish market and we picked up fresh albacore tuna and some shrimp for dinner.  My brother-in-law makes the best grilled fresh caught fish ever! He has an awesome marinade and is the only guy I know who can barbeque fish to perfection on a gas grill!
(He may even share some of his secrets so stay tuned!)
A great day in Astoria…can't wait to go back!