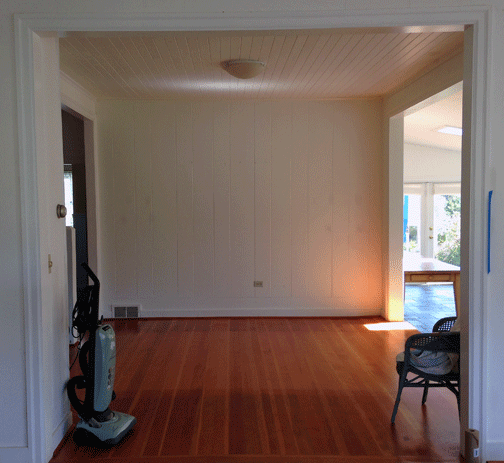 The Dining Room
The Dining Room
A big white wall in a big square room.  The old fir floors were lighter in the middle where a rectangular rug used to be. Painted white woodwork casements around all the doorways – really nice!  There is a step down into the new addition all across the south side of the room.
When you walk in the front door you look right through the living room into the dining room at that big, white wall.  A big focal point for sure!  It's really the center of the house with other colors all around and that big blue/green slate floor right next door.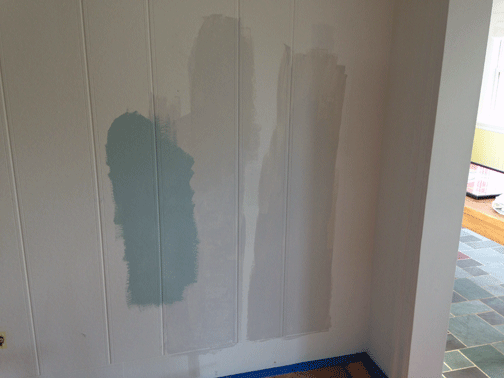 This room was probably the hardest one to choose paint for and it took several samples on the wall to get it down to the right blue shade.  At first it looked really aqua – like Florida aqua – which was not working for me.  However, the light changes all day long in this room.  So…walked away for awhile and came back later and it looked totally different.  Actually looked pretty good so took a chance and went with it.  Benjamin Moore Woodlawn Blue -just a soft green-blue with a hint of grey.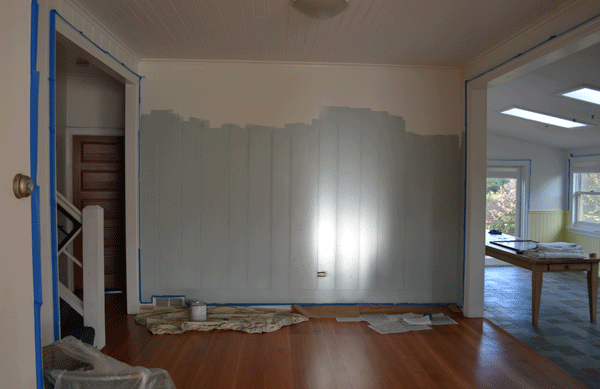 I found a square, counter height pub table and six chairs at a second-hand furniture store in Bend and it was a steal of a deal for under $300.  One leg was wobbly but they fixed it so I grabbed it.  The kid in the back loading area managed to puzzle it together and get the whole thing in the back of my Toyota minivan.
*Every time I wonder why I am still driving a soccer mom minivan the darn thing comes in really handy and I am glad I still have it.  Guess I will keep it*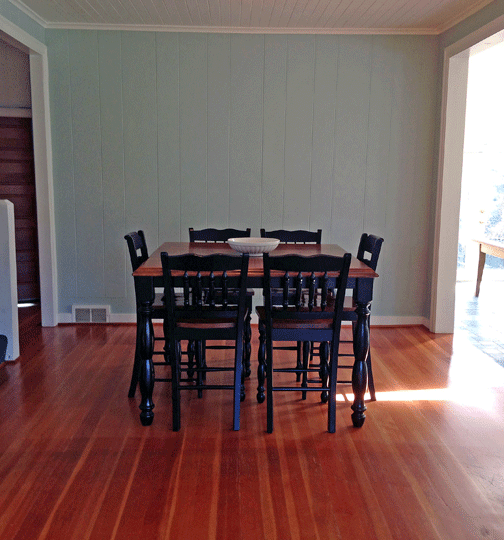 Anyway…hauled the table and chairs to the beach along with a few more found treasures and it looks just like it was meant to be.  Ready for a bunch of pizza boxes and board games!
Up next….
The Big Wall – Needs something kind of big and ???  A large map or a collage of old family beach photos or maybe a big painting of a ship being eaten by a giant octopus?
A Chandelier – This room is calling out for a really great chandelier. So many choices out there! Should I go with a 1930's style …… or something dripping in sea creatures and crystals….. or one of those big orbs they keep putting in all of the houses on Fixer Upper?
I'm open for suggestions!  Send them along!