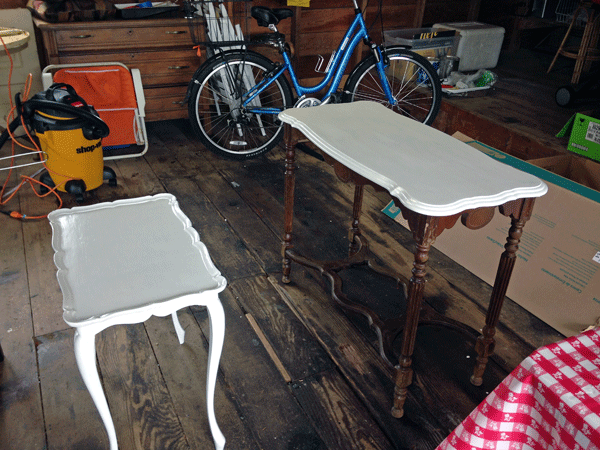 Painting Furniture
Painting Furniture
I am still looking for a few furniture pieces for the cottage and found a couple of little tables at two different yard sales over the summer.  I bought a little side table at the annual Surfpines neighborhood yard sale just north of Gearhart on Fourth of July weekend.  It was painted with a flat grey paint – it may have even been some kind of chalk paint – and I knew I would need to paint it some nice beachy color when I bought it for $5.00. It is a good size for a side table for a chair and will be cute with a small lamp on it…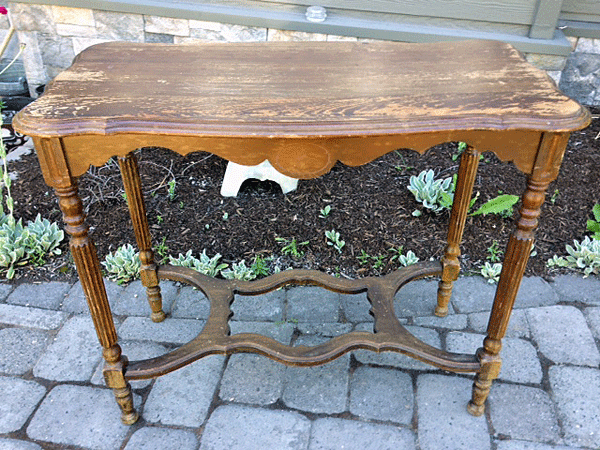 The other larger sofa table was from a friend's yard sale in Bend.  The top was a bit rough but the rest was in pretty good shape.  Such pretty detail!  It was her grandmother's so she was feeling a bit guilty about selling it but was happy that I bought it because then she knew where it was going….she can come visit it if she wants!  The sale was also a fundraiser so the money went to a good cause – Bonus!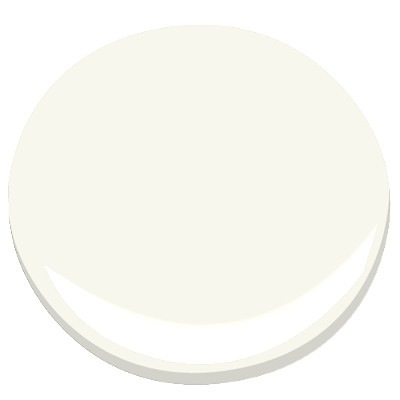 I set both tables up on a work table in the garage and decided to paint them the same color – Simply White by Benjamin Moore.  It is soft and creamy and not a stark white – just the right touch of off-white.  I tried a different type of paint from the usual latex semi-gloss this time – Benjamin Moore ADVANCE Waterborne Alkyd paint – on the recommendation of the man at the paint store.  It is suppose to have easy clean up like a water-based latex but with the harder and more durable finish of an oil.
Well…it did clean up easily,  but I didn't like the way it went on and it took more coats for some reason and was drippier and ..well… it just wasn't the same as good old semi-gloss.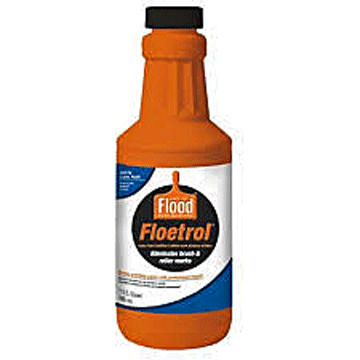 I used my favorite paint conditioner Floetrol with it which works great with regular latex semi-gloss but seemed to be different with this other type of paint.  I do have some of this paint left so will use it up, but perhaps without the Floetrol and see if that helps.  You never know about new things until you try, right?  The ADVANCE was pricy and frankly…I think I will stick with regular latex semi-gloss next time.  Just my opinion!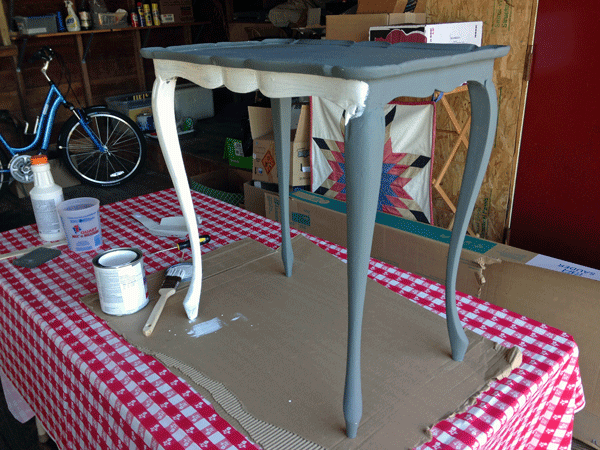 Painting that little grey table was a challenge…. when it should have been easy!  Kind of cute though, right? Maybe I should have put some primer on it first… but I didn't… or maybe it was the different paint formula.  It took several coats and days to cover that strange grey paint.   Eventually it all got covered though and turned out okay!  I put it upstairs next to one of those yellow chairs for now – it may still get moved around some more until I find the perfect spot.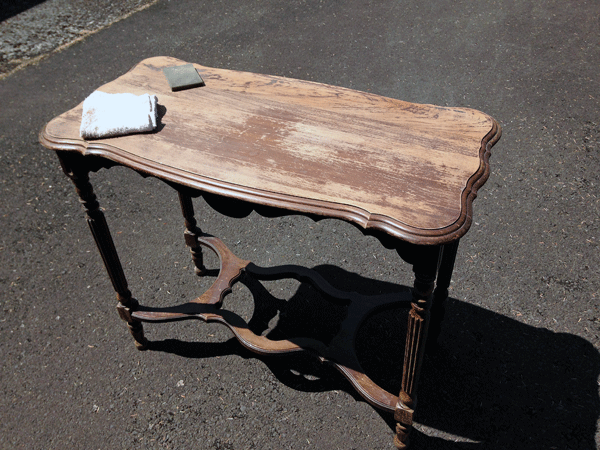 The bigger table needed some work before painting.  I sanded the top down as smooth as possible and considered sanding the rest but there is so much detail that I decided to just paint the top and see how it looked before tackling the whole thing.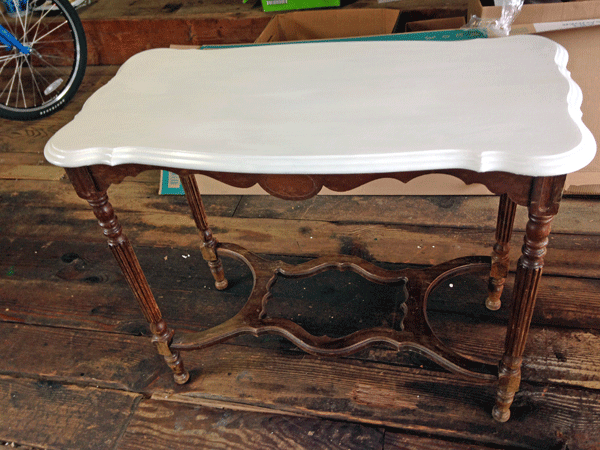 This also took a few coats more than usual.  I kind of like it with just the top painted, don't you?  I still need to polish up the rest and then decide, but I think just the top painted is fine. I did bring it into the cottage and tried it out in the upstairs hall just to see how it looked.  Have not decided what will go on it yet – probably a small lamp, some books and maybe something nautical!
I am hoping this table and chair will keep people from walking too close to the wall and banging their heads on that low ceiling!  I think a nice runner on the floor will also help steer people in the right direction so I am still on the lookout for just the right one.
The upstairs hallway is coming together!
 –  🙂  –