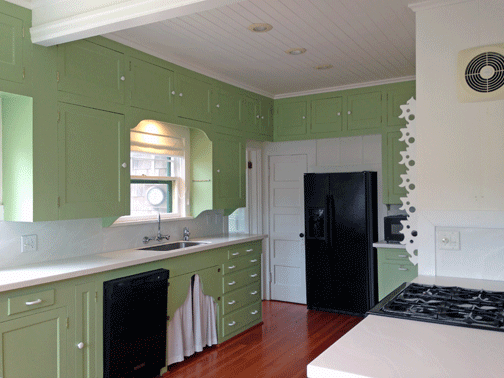 The kitchen is one of the really fun rooms in this cottage – as kitchens should be!  It's big and has lots of storage and the major updates have been done. There is a newer fridge, dishwasher, gas stove and best of all – a garbage disposal – which is a rare thing down at the coast for some reason.
 The original 1920's cabinets have been painted a soft green.  The little cutout cabinet doors with the white curtains under the sink are just so charming – one of those great vintage details.  There is a nice deep pantry tucked in the corner and pull-out bin drawers that were probably once used for storing things like flour and beans …but we will use them for trash and recycle.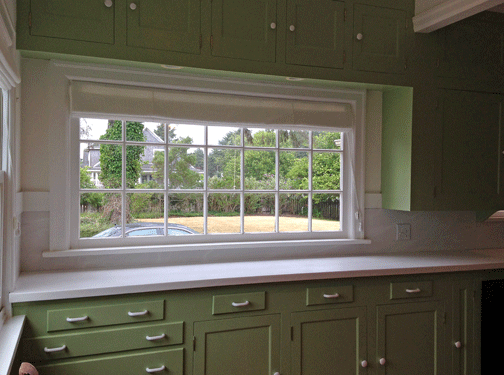 There is a ton of natural light coming in through all the windows.  The woodwork is all white and the countertops were replaced at some point.  They appear to be some kind of Corian type material that looks like Carrera marble – but it's not and that's okay.  Already had some red wine spilled on it and it wiped right off – perfect!
We didn't make very many changes in the kitchen … but we did do a few things.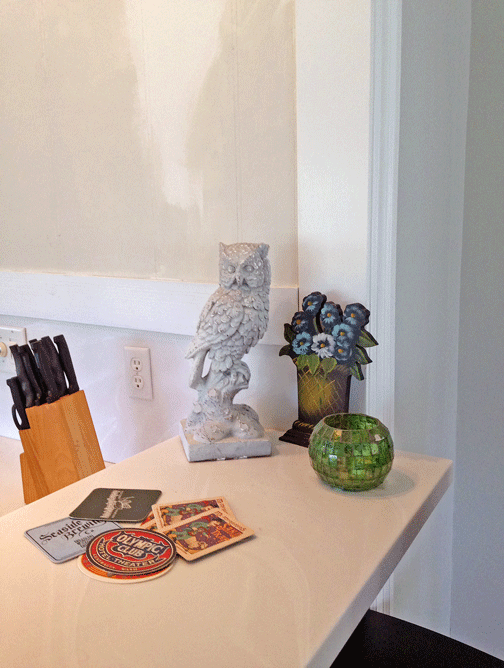 The walls were all white so they got a fresh coat of Classic Grey by Benjamin Moore.  This is still a work in progress as you can see!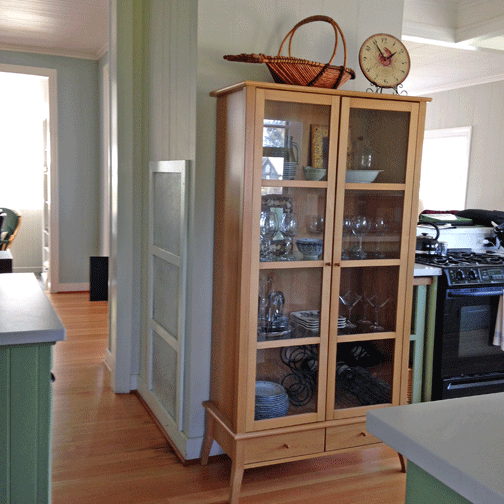 We removed the little white shelf bracket from the wall because we had a tall, narrow china cabinet that fits in that spot perfectly.  The shelf bracket is cute and will probably reappear later in a new location.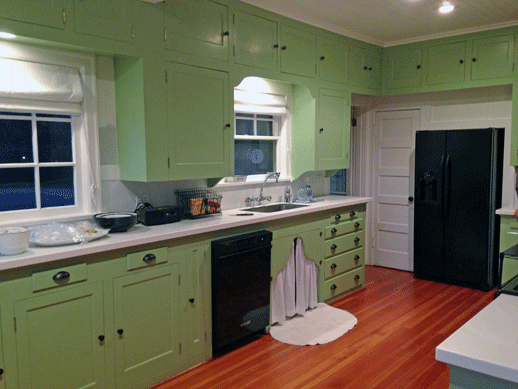 The white china pulls on the cabinets and drawers were not original pulls.  They were okay… but I am a bin pull kind of girl – don't know why – just like them.  I thought about the classic glass pulls and knobs that may have been there originally, but they are really expensive and we have a LOT of drawers and cabinets.  I considered nickel pulls, but since all the appliances are black, I went with these pulls from Amazon.
They were easy to install and they don't show fingerprints – Bonus!
Changing out the pulls was one of the very first changes that we made – because it was easy and non-messy – and did not involve dirt or paint or really tall ladders.  All that was still to come…
I was just trying to pace myself 🙂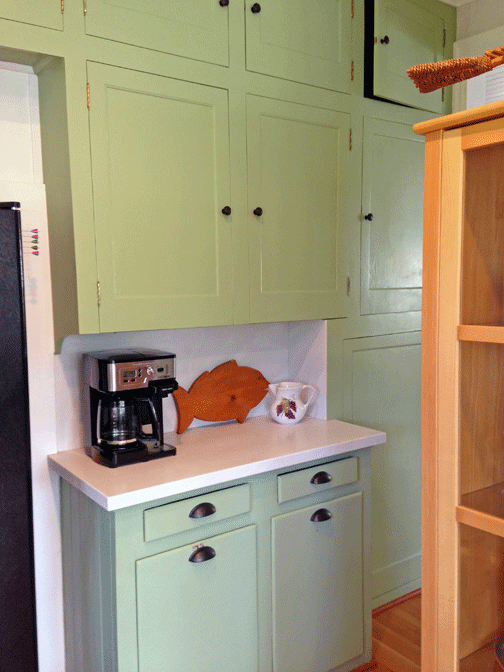 There are a few more things on the kitchen update list to come.   I want to put glass in the cabinet doors on either side of the sink and maybe in these cabinets to the right of the fridge.  I like the green but there is a lot of it and I would like my dishes and other vintage finds to show and break up the green a bit.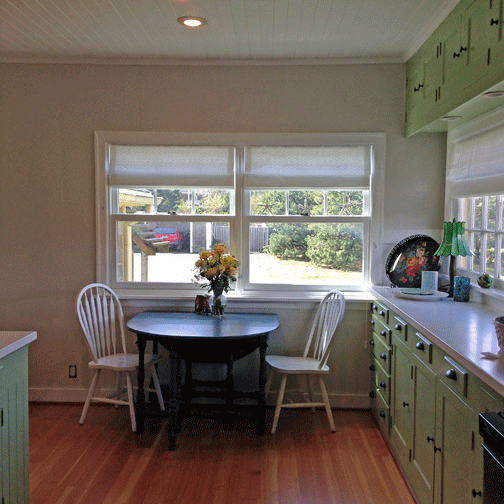 Speaking of vintage finds – I found this little old gate-leg table at a yard sale many years ago and with one side folded down it fits just perfectly under the front kitchen window.  It's a great place to sit with your coffee and watch the world go by in the mornings!